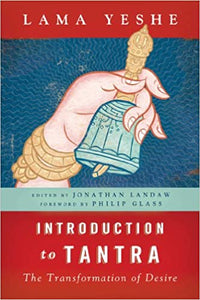 By Lama Thubten Yeshe
New edition of this perennial classic. "The best introductory work on Tibetan Buddhist tantra available today."—Janet Gyatso, Harvard University

What is tantra? Who is qualified to practice it? How should it be practiced? What are the results? According to Buddhism, every human being has the potential to achieve profound and lasting happiness. And according to the tantric teachings of Buddhism, this remarkable transformation can be realized very quickly if we utilize all aspects of our human energy——especially the energy of our desires. Introduction to Tantra is the best available clarification of a subject that is often misunderstood. Tantra recognizes that the powerful energy aroused by our desire is an indispensable resource for the spiritual path. It is precisely because our lives are so inseparably linked with desire that we must make use of desire's tremendous energy not just for pleasure, but to transform our lives. Lama Yeshe presents tantra as a practice leading to joy and self-discovery, with a vision of reality that is simple, clear, and relevant to 21st-century life.
Paperback 192 pages