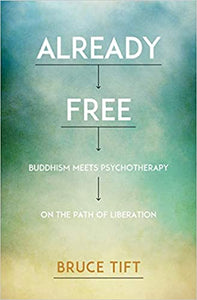 by Bruce Tift  MA LMFT
Why are more and more psychotherapists embracing meditation practice, while so many Buddhists are exploring psychology? "Both psychology and Buddhism seek to provide freedom from suffering," explains Bruce Tift, "yet each offers a completely different approach for reaching this goal." In Already Free, Tift opens a fresh and provocative dialogue between these two profound perspectives on the human condition.


Tift reveals how psychotherapy's "Developmental" approach of understanding the way our childhood wounds shape our adult selves both contradicts and supports the "Fruitional" approach of Buddhism, which tells us that the freedom we seek is always available. In this investigation, he uncovers insights for connecting with authentic experience, releasing behaviors that no longer serve us, enhancing our relationships, and more. "When we use the Western and Eastern approaches together," writes Bruce Tift, "they can help us open to all of life―its richness, its disturbances, and its inherent completeness."
Paperback, 344 pages