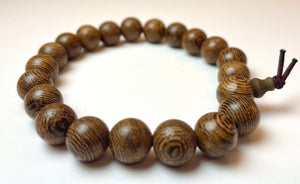 Phoenix Tail Wood (Ji Chi Mu) is also known as Pheasantwood. This name came from its tight and feather-like grain resembling the iridescent quality of lights and shadows on a pheasant's feathers.

The Phoenix symbolizes rebirth or resurrection as the bird typically is consumed by fire only to be reborn and strong in the ashes of the old. The Phoenix or 'Fire Bird' is referred to under different names in many cultures from Greece and Egypt to India and China.
10mm beads with elastic band.